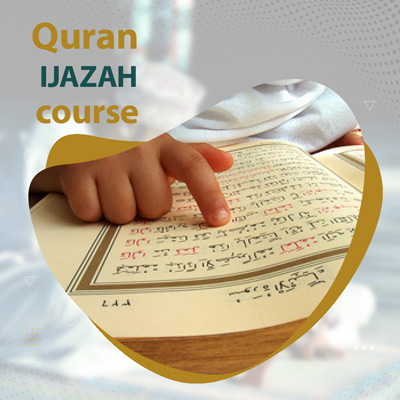 Ijazah (إِجازَة) is an Arabic word, which means Authorization, endorsement or permission. Ijazah is a certificate used primarily by Sunni Muslims to indicate that one has been authorized by a certified Imam or Sheikh who already holds Ijazah to teach the Holy Quran.
The purpose of Ijazah is to establish narration with a chain of transmission that will eventually end at the origin of Hadith. It ensures that the scholars have a certificate of narration of texts whether through oral or written transmission.
Course Details:
Since this is a matter of religion, it's very important to gain your Quranic & Islamic knowledge from an accredited and authenticated source. Accordingly, obtaining Ijazah in Quran Recitation with Tajweed or Ijazah in Quran Memorization is a MUST for anyone seeking to teach the Quran. Yet, it's not limited to Quran tutors, but anyone who wishes to excel in reading Quran Tajweed or become Hafiz/Hafizah Quran can opt for this course.
Learning Objectives:
By the end of this course, you'll have an understanding of:
Arabic Alphabet
Arabic Grammar
Arabic Language Reading
Quran Reading Basics
Quran Recitation
Tajweed Rules
Quran Memorization/Hifz
Teachers:
Through the "Quran Ijazah " course for both kids and adults, our experienced and certified scholars will verify your skills and abilities, assess your knowledge of the Quran and Hadith. They will then test your area of interest, and grant you Ijazah. With the help of repeated tests and quizzes, our teachers will gauge your knowledge and hold over that particular arena. You would need to pass the tests with flying colors to be able to get the Ijazah, and it would not be difficult with us. Our Quran scholars and professionals will help you master the course.