Quran Memorisation course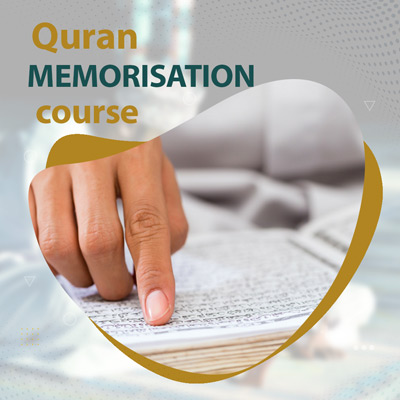 Quran Memorisation course

Quran memorization is known as Hifz. It means to look out and learn the Quran both accurately and symbolically. Hifz is a method in which both knowledge and training are done verbally.
It is probably one of the best ways to strengthen the relationship between an individual and Allah. Memorizing the Quran helps us to heal physically, morally, and spiritually.
The Quran reminds us of our purpose of creation and aspires us to become a better version of ourselves. Familiarizing oneself with it has infinite benefits in this world and hereafter.
During the time of the Prophet (Peace Be upon Him), writing was an uncommon style of storing important matters and information; Thus memorization and oral transmission were the most effective methods of preserving information. This is how Quran memorization came into being. The Prophet PBUH would recite each verse and his companions would learn those verses by heart.
Course Details:
The Quran memorization course is one of our most sought-after courses. People seeking to become Hafiz/Hafizah aspire to enroll in this course. The reason for this popularity is the use of modern linguistic and memorization techniques to reap maximum benefits. The course emphasizes the correct pronunciation and diction along with the memorization of verses.
The course can be learned per any of the following methods:
Sabak method
Para Sabak
Ammokhtar
Halaqah Dauri
While the course itself does not have any restrictions upon age, it is best if the kids are enrolled at an early age. Children can much more easily retain information than adults and therefore, have an easier time in learning. Adults are also welcomed in this course; it is never too late to become a Hafiz.
Becoming a Hafiz is no easy feat. It requires a great deal of time and patience. This extends to even after you have fully memorized the Quran since the limitation of the human memory makes it necessary to perform revision continuously. 
Learning Objectives:
By the end of this course, the students would be able to:
Understand the reasons for forgetfulness
Learn memorization techniques
Memorize around 10 pages daily
Become a Hafiz in a short amount of time
Teachers:
We make certain that only the most dedicated and patient teachers teach the Quran Memorization course. As such we appoint only the best and most committed teachers to teach this course. Our teachers are certified from Al-Azhar University with Ijazah in teaching the Quran. Some of them are hafiz/hafizah themselves and know exactly the kind of problems a person can face during the learning process. Therefore, they are very much equipped and prepared to guide the students at each step.